GENDER EQUALITY in Sailing #GIRLSPLAYHARDER OFFSHORE
Dehler 30 one design class association declares its commitment to equality
Hello sailors, women, ladies! clear to turn!
The sailors of the class association Dehler 30 od actively supports the goals of World Sailing and olympic.org. The class association has therefore developed a unique and until 2024 secured program to promote especially the women among us sailors as well as to support women in sailing in general. With the campaign #GIRLSPLAYHARDER OFFSHORE the class promotes female sailors, young women and ladies, regardless of age.
Are you interested in offshore sailing?
Then this is the right place for you. The Dehler 30 od is an offshore racer that allows an easy entry into offshore sailing due to its intuitive handling. Here you will find like-minded people who share the joy of sailing and the Olympic spirit. Our members come from all over the world and are ready to help you with words and deeds. Here you will find some exciting reports about the development of equality in sailing. Do you have questions, suggestions, hints or wishes? Then send us an email.
I'm "far away" from the professional sailor status! I'm just an amateur offshore racing female sailor who is eager to "show" at as many female sailors as possible how exciting is the offshore racing category! (Evi Delidou/Offshore Racing Training Center Greece).
My name is Lena and I am here for all your questions
Since 2020 I sail Doublehanded Mixed Offshore with Olympic ambitions. This gives me a high water hour workload and I have already gained a lot of experience in shorthanded mode at the Baltic 500, Kiel Week, the L30 Doublehanded Mixed Offshore European Championship and the Silverrudder Challenge. I love mixed sailing because it is so multifaceted and because I think that women and men with different skills complement each other wonderfully. That's why I'm also committed to giving more women more opportunities in offshore sailing! With my team partner Max, I have the motto Vmax, which means maximum speed and performance, and the motto Mixed! Because we want to inspire as many different people as possible for this exciting discipline! So if you have any questions or suggestions regarding Shorthanded Offshore, the possibilities for you as a woman in sailing or the Dehler 30 od, feel free to send me an email and maybe we will see each other on the water soon.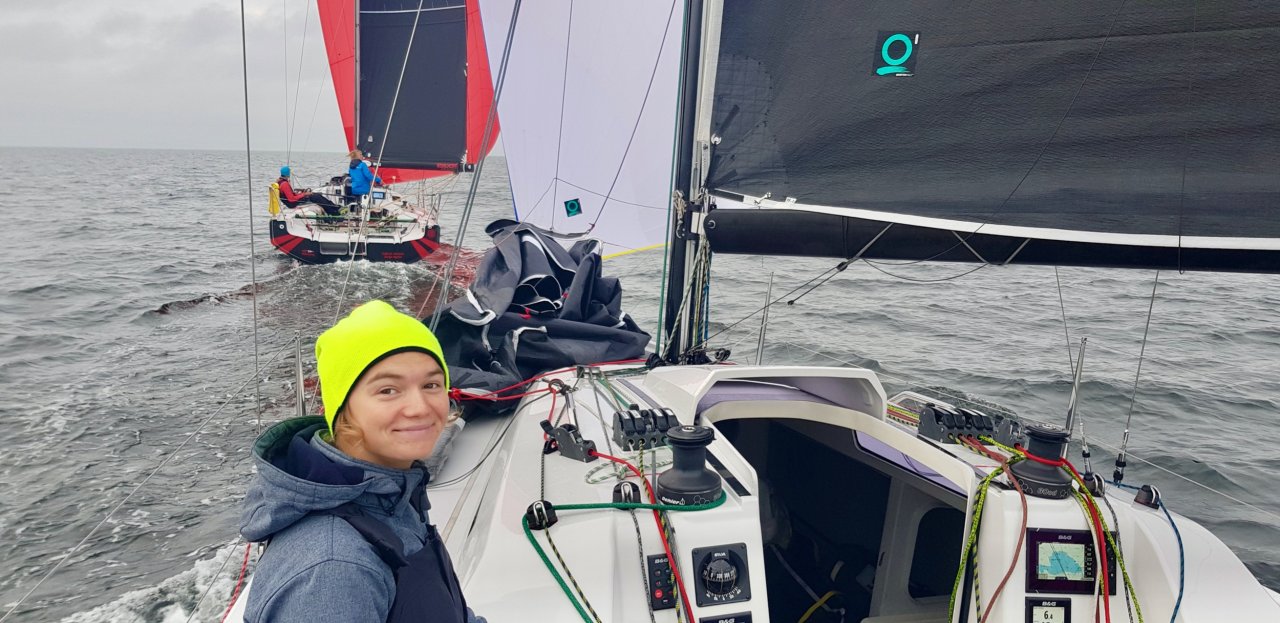 My name is Evi and I am here to help you
I'm "far away" from the professional sailor status! I'm just an amateur offshore racing female sailor who is eager to "show" at as many female sailors as possible how exciting is the offshore racing category! (Evi Delidou/Offshore Racing Training Center Greece).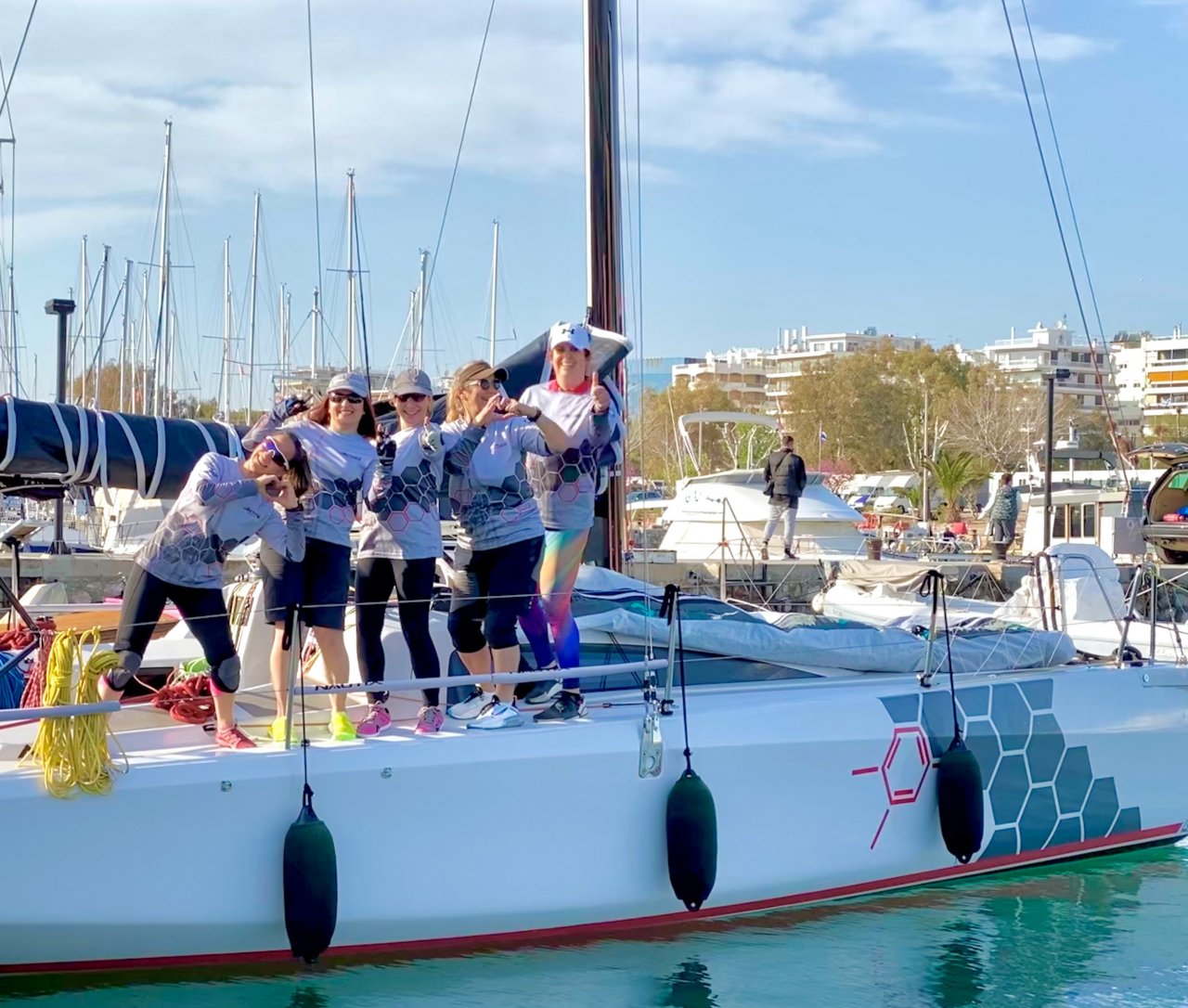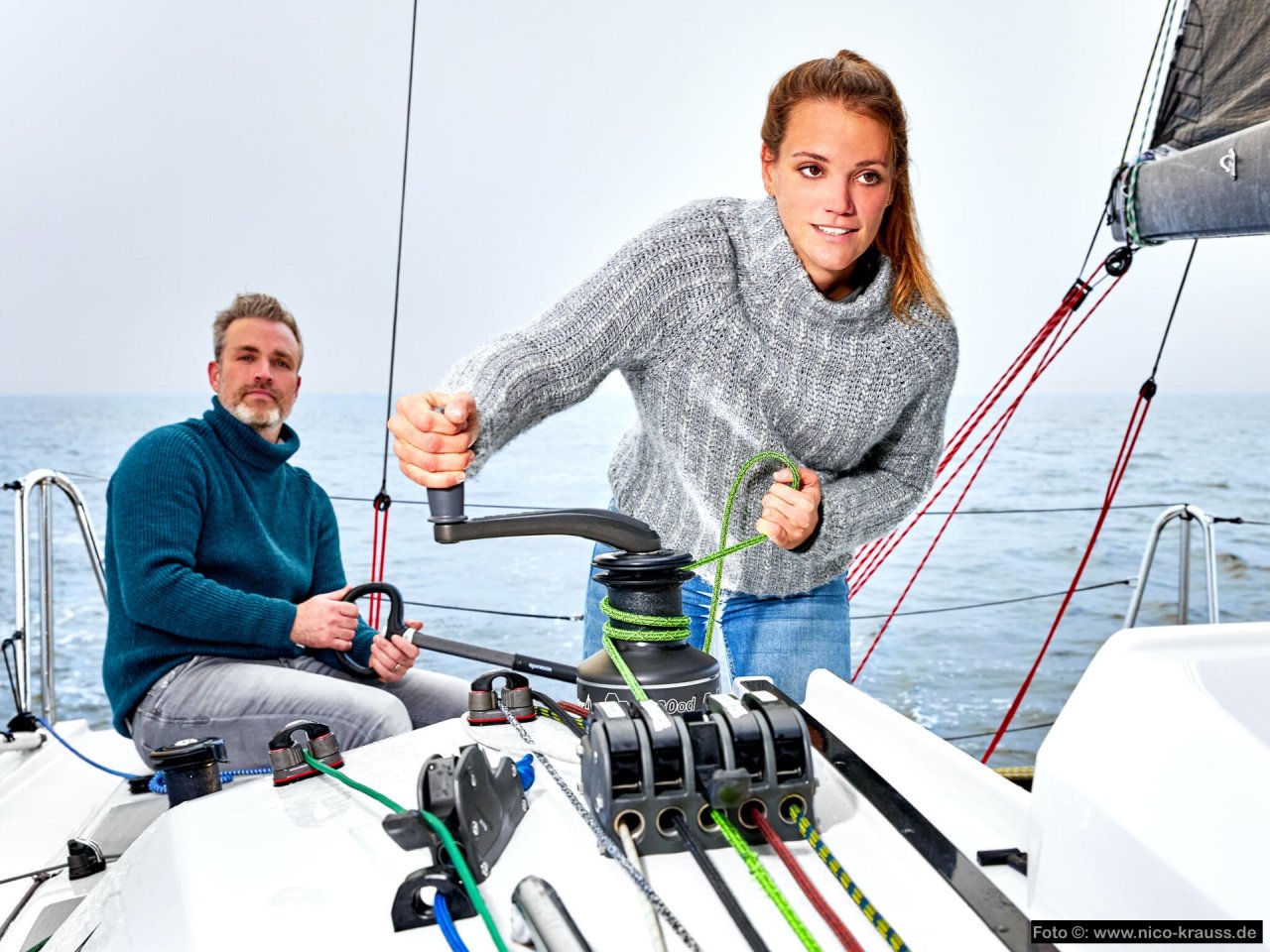 Discussions on Offshore, Events and Gender Equality lead Day 11 of the World Sailing Annual Conference
29 OCTOBER 2020 14:00PM
The busiest day so far at World Sailing's 2020 Annual Conference saw four meetings take place on Wednesday 28 October, with three of them broadcast live on World Sailing's YouTube channel. The Constitution, Oceanic and Offshore, and Events Committees all convened throughout the day, while the World Sailing Trust also held a Panel Discussion on Gender and Geographical Diversity. As part of the 2020 Annual Conference, the World Sailing Trust held a successful panel discussion on Gender & Geographical Diversity, featuring a host of engaging and well-informed panelists. World Sailing received positive feedback from UN Women amongst others for the progress made on making the sport more inclusive for all, but it was acknowledged that there is still plenty of work to be done during an enlightening discussion between those inside and outside sailing. Focusing on two main areas - Inclusion & Diversity, and Gender & Diversity - the panel exchanged best practices and answered questions on how to make our sport accessible and appealing to people of all backgrounds. Moderated by Shirley Robinson OBE, the panel was made up of the following people: Dee Caffari MBE, Chair of the World Sailing TrustMiguel Crespo, Head of Participation and Coaching, Integrity and Development at the International Tennis FederationJennifer Cooper, UN Women, Sport for Generation EqualityIrina Gladkikh, Association Director at the IOC in charge of Winter and Recognised SportsLindani Mchunu, South African National Council Transformation CouncillorRob Holden, World Sailing Training and Delivery ManagerDawn Riley, Executive Director at Oakcliff SailingSally Barkow, US Sailing Olympic Coach, and Performance Manager.
Dee Caffari reported on the past 12 months for the Trust. At the 2019 Annual Conference in Bermuda, the Trust revealed the findings of the Women in Sailing Strategic Review and outlined nine recommendations from the research. With the COVID-19 pandemic impacting the sport throughout this year, Caffari honestly reviewed the progress made with these recommendations.
Caffari also outlined the Trust's future intentions. It will now focus on two specific areas; People and Environment. With People, the Trust will aim to promote diversity and inclusion, while Environment refers to the protection of the Earth's waters.
She also shared some success stories from the Trust over the past 12 months, including the successful launch of the Educational Sustainability Materials, which has been released in eight languages so far, with six more planned. Twenty-five MNAs are using the resources, as well as the Optimist Class Association, with plans also to adapt them for use by the International Kiteboarding Association.

The stand-out achievement this year, however, was that World Sailing became the first Olympic sport to sign the UN Women Sport for Generation Equality Declaration.
The stand-out achievement this year, however, was that World Sailing became the first Olympic sport to sign the UN Women Sport for Generation Equality Declaration.
Jennifer Cooper praised World Sailing for their transparent reporting and for undertaking research in order to inform their decision-making, which she said was "essential" in order to effect large institutional change.
Irina Gladkikh talked about how the IOC's Gender Equality and Review project demonstrated the need for clear goals, detailed timelines, and measurable success.
Giving a perspective from another International Federation, Miguel Crespo outlined how far tennis had come in encouraging more women and girls to take up the sport, using female role models to inspire, and also encouraging nations worldwide to develop their own gender equality strategy. Crespo revealed that he believed both tennis and sailing were in a similar position and on the correct path.
Rob Holden and Lindani Mchunu, who are both based in South Africa, gave a fascinating insight into sailing in emerging nations and developing countries. Holden outlined his belief that young sailors are most inspired by those on the ground who give up their time to help them develop and empower them to have the confidence to go far in life. Mchunu highlighted that these nations do indeed have talented young athletes and it is a case of elevating these success stories and connecting them to the international community. He also talked about the importance of engaging directly with local communities, instead of adopting a "helicopter approach" and "giving priority without authority or autonomy."
Sally Barkow talked about what US Sailing is doing to affect change, including the creation of a Diversity, Equity and Inclusion Committee, while Dawn Riley highlighted the need to connect with grassroots sailing and the importance of representation amongst the leadership.
Concluding an engrossing hour-long discussion, the panel also took questions from those watching live and outlined their desire for anyone who wishes to help the World Sailing Trust as it strives to make a difference within the sport.
Opinion: Why is achieving gender equality in elite sailing such a challenge?
4th March 2021 - yachtracing.life Yacht Racing Life reader Lyn Evans
Despite some notable efforts over the years to level the playing field there is still no denying that when it comes to the professional end of the sport yacht racing is a largely male-dominated affair.
That's the thorny issue that Yacht Racing Life reader Lyn Evans – a Yachtmaster and life-long member Balmain Yacht Club in New South Wales, Australia – addresses in this guest opinion piece.
———
Why do we keep trying (and failing) in getting gender equality in Elite sailing?
Answers:
We don't put females on the helm in the big races.
There is a perception that females aren't as good mentally.
Owners and Sponsors don't want a female in charge of the boat or the campaign.
Women give birth and nurture children, interrupting careers.
We don't have enough 50/50 gender mixed races.
Racing boats are being designed so that only Ironmen can sail them. Ironwomen fall short.
We keep trying to compare females to males.
Last year I sailed my yacht from Sydney to Pittwater. Just the three of us. Myself, one of my regular crew and her 12-year-old daughter. Within a few minutes on the wheel, that 12-year-old was steering like the yacht was an extension of herself. We were both amazed. Miss 12 also loves Dance, so she is busy doing that just now.
A few weeks ago, my grandson, aged four, got onto the yacht for his second outing. He didn't want to do anything other than steer. He also took to it easily. He followed directions, concentrating, and refusing to give up his position until he literally fell asleep at the wheel.
Master 4 also likes his toy cars and cooking – so he is busy doing that now.
Hopefully, both will catch the sailing bug. They are, what I consider to be, naturals on the Helm. Yet it will be Master 4 who will have more opportunities if he chooses the life of a professional sailor.
Inclusion – the new buzz word
Inclusion for females currently means putting women in any team position other than the Helm.
Media Director, Starter, Interviews or Logistics are just some of the "team positions" women hold. Occasionally they are hired to be navigator or Tactician. At least that's on the boat.
Teams also deflect by clever "smokescreen" marketing. An example I saw recently was that SailGP put a large picture of Shirley Robertson on the front of an article saying: "Shirley Robertson interviews Sir Ben Ainslie."
They are being inclusive right? Look! A big picture of Shirley! (who is, by the way, an exceptional sailor and racing commentator).
We know that female sailors can just as good as male sailors, given the same exposure to their craft and training, so why are they constantly overlooked by teams?
Possible reasons:
Not the right 'dynamic' to have females on board. (from whose perspective?)

Males and females think differently?

Different genders expect different outcomes?

Strength? (sailing gorillas)

Sponsors are generally led by men who want "manly" outcomes?

Boat owners are generally men?

Males get the opportunities to be first on the boat so get the training and learning bit done before women even show up?

Not enough professional women sailors in the selection pool?

Interest is always in all women's teams, but by its nature, are hard to get going?

Women don't have a "win at all costs" mentality? (who came up with that one?)

A strong assertive male is seen as a positive; a strong assertive female is seen as rude and overbearing? (societal perception)
Do just as many females want to compete in racing?
Answer:
Yes, I believe so. If we give them exactly the same opportunities as males, then we will eventually get a similar number of females as males competing at all levels of sailing, including the Elite racing circuit.
There are plenty of mixed teams; the Olympic Nacra catamaran is an example. Despite being crewed by one female and one male, only 10% of women are on the helm. Even so, these 50/50 Mixed teams will give that important 50/50 opportunity to be trained and selected. 50/50 is the way to go in mixed teams.
Until we allow young females to be in charge, to do all the things that young males do, then we shall always have less women in racing than men. Parents of children need to stop saying things like "you throw like a girl" or "let your brother do that, he is better at it".
If you ever hear things like that – pull that person up on it.
Successful female sports
Female Soccer in Australia has taken off – big time. It is now seen as the sport to play when you are in school for both boys and girls. I was part of the inaugural women's soccer team at my local club. We were hopeless. The boys of the same age were vastly better because they had been playing since they were 6 and they had any number of qualified coaches and assistant trainers to really get the best out of them. Scouts were always looking out for the best male talent and getting them into Youth camps. Our coach was a dad.
Fast forward 30 years and Women's Soccer is mainstream. Our Australian National team is filled with amazing talent. It's no good to say that we just happen to have a talented bunch of girls. We have always had the talent, but we have never had the training and experience. Now we do. Crowds fill the sidelines and the stadiums (covid notwithstanding). In the USA and England women's soccer games regularly surpass 30,000 people in the stands.
It's because nowadays sports fans see women's soccer as women's soccer. They do not compare it to men's soccer. It is a sport in its own right.
Women's Cricket: exactly the same thing has happened.
The Women's T20 final in Melbourne, at the beginning of 2020, had 86,174 people in the stands. Good marketing, skilled, entertaining players, and parents taking kids to the game helped.
Again, it's a sport in its own right and the skills are incredible.
Back to sailing
In sailing some classes do have men's series and women's series. (Laser for men and Laser radial for women). However, the issue in that is that "the boys" will get into the "men only" sailing mentality when they sail together without females.
Due to the cost of sailing and the sponsorship required, we won't see a female Americas Cup or a female Vendee Globe anytime soon, so my hope is that 50/50 mixed teams become the norm.
So put a female on the Helm. Put a female on the helm as often as possible.
If she is good enough, she does not need a male to "help" her.
The SailGP fail
Sail GP thinks it's wonderful, and a step in the right direction, to have a new rule which says each boat now must have a female in the team.
Women's invitational camps, selection processes and training are currently taking place. For the French, Billy Besson is in charge and at the helm. He has significant, on and off water input. He was invited to lead the team. Conversely, for the female French "winner of the selection trials" her prize is the right to stand behind the helmsman to assist with tactics.
Marie Riou was selected by Billy Besson in 2017 because he wanted his Nacra sailing mate with him. Thanks Billy. Marie, your sailing teammate for over five years in the Nacra, got in through the "Captain's Pick" it seems.
New Zealand has chosen two candidates to be 'immersed' into the team. After Bermuda one female is dropped (fails) and the "winner" gets to "join the team". Nothing mentioned about which male crew member she will be replacing on the boat. HINT: she won't be. But yay!!! She is on the team.
Just recently Jimmy Spithill "snapped up" 3 of Americas Cup "American Magic" guys for his upcoming SailGP campaign. This happened while several females are in the intensive training and selection camp. Looks like the males don't have to go through the hoops the females do. The males simply get invited to join.
Even the words are carefully chosen so we think it's all about to happen: "we're excited to also announce that this week we'll launch an open process for female athletes to apply to join the team." Those words actually say – we are about to start to begin to have females apply to join".
All while Jimmy "snaps up" three blokes.
America's Cup
In 1995 there was an all-female crew competing to be the Defender. (Why did they need to be an all-female crew?) They were well funded but didn't have anyone on board who had that Americas Cup experience. Dennis Conner and his team, with their vast experience, defeated them 5-15, and became the Defender. The females were doomed to fail because the sponsor thought he was helping by choosing an all-female crew, rather than selecting females and males with talent AND experience.
2019: Carolijn Brouwer was selected to be the first-ever Helm on a Challenger for the Netherlands, however they had to withdraw due to a lack of funding. That would have been amazing, but it didn't happen … again. Let's hope the funding didn't evaporate as soon as sponsors found out a female was on the helm. (did I say that out loud?)
Several females are on the start boat with Iain Murray. Talk about inclusion! There will probably be an Article out soon saying "Three females on the start line in the Americas Cup!"
So, it looks like the start boat will be the closest females will get to the action, Americas Cup style.
Volvo Ocean Race
Volvo Ocean Race introduced a rule where you could have seven men onboard or seven men and one woman. (there were other variations as well). In other words, if you have seven men you can take a woman along for free!
David Witt on Scallywag is rumored to have said "We're going with seven guys. I just don't think the rule is a good fit, and I don't think the dynamic will work. It's hard enough to win the race, the last thing we need is to be part of a social experiment."
Was Witty simply misquoted? No matter – he did not take up the offer of a "free" female when the race started. Interestingly, later in the race – he did.
Team SCA, the all-female entry in the previous race, really got us all excited and, despite coming last in most of the legs, came through to win the last one. It took them that long to get the experience on the Volvo 60 in hard, ocean racing conditions.
The experience from that race has propelled many of its crew to become elite Professional sailors. They had to learn the hard way and do it together. Apart from Dee Caffari, [and Sam Davies, Abby Ehler, Libby Greenhalgh – ed] not many of them had the experience required to win from the outset.
They do now. The names that crewed on SCA keep popping up everywhere. Why? They have experience at elite level because sponsors gave them a chance.
Why do we need to keep giving females a "chance"? Can't they just be chosen on their talent?
Strength
Strength? It's not as big a deal as the males would have you believe. (boys don't want to lose their position on the boat to … GASP!… a girl!)
Yes of course an ironman can out muscle an ironwoman, but he can just as easily get seasick, break an arm or mentally fold. I have seen a grown man crying at the bottom of the boat because they were scared and sick with the storm conditions we were in. (I walked over him on my way to the chocolate stash; he was in the foetal position for 12 hours.)
The current design of the Americas Cup AC75 boat requires grinders who do nothing else other than turn the handles. A couple of crew aren't even sailors. They are picked for their strength. Does the direction of sailing have to take this path where sailing "gorillas" and millions and millions of dollars may equal success? Is that the only pathway for sailing entertainment?
Equal opportunity = equality
Female sailors are no different and have the same skillset as males once they have that experience and become a normal part of the sail training pathways. (not these well-meaning, but wrong, "inclusion" camps like SailGP have where it's really just females in them, being looked over by men, to see if they can compete with men)
Every time a see a Sabot or 29er go by with a girl at the helm I cheer… and I thank the club volunteers. That was so many of us in our youth. (I was a Flying Ant sailor)
I only got into the 1987 Sydney – Hobart because the boat owner wanted to give females a chance. I saw the ad in the paper and tried it out. By the time the race started, I was Watch Captain and one of four people allowed to helm. Team members should be picked on talent. Teams should quit thinking "let's give a female a chance." Talented people pick themselves and of course, everyone undertakes training.
Help!
We should all help out. Volunteer at your club and take roles on the Committee. When discussing gender equality don't say things like "well at least it's a start" It should be 50/50 – always.
Sailing is expensive. Talented males and females are no doubt lost due to the high cost of sailing.
But everyone can go down to a club and jump on a boat. It all starts from there.
Boat owners? Put a female on the helm and put a female in charge. Experience follows!